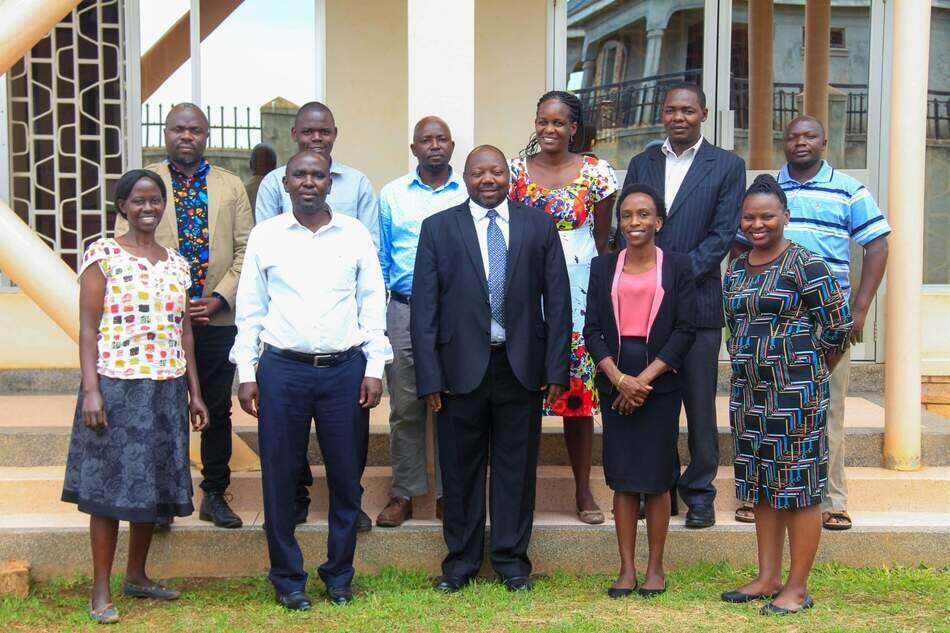 About KENWILL
Kenwill International Limited
Kenwill International Limited (KENWILL) is a management and socio-economic development consultancy firm. KENWILL provides a range of professional services in programme development, organisational development and knowledge generation for performance improvement of organisations and development interventions. KENWILL has a competent team comprising professional evaluators, programme designers/analysts, organisational and institutional development practitioners and economic/financial consultants.

The company has made inroads into the consulting business in Uganda and within the East African region, especially in conducting rigorous and high quality evaluations and baseline surveys and feasibility assessments of public infrastructure development projects. KENWILL is involved
in a business of providing consultancy services on socio-economic development aspects. Specifically KENWILL works with organisations and entities aimed at human development and transformation.
Since January 2007, KENWILL has managed over 100 consultancy assignments/contracts. These assignments have included 60 evaluations, 43 baseline surveys, 38 micro-level advocacy capacity assessments, four policy analysis/monitoring studies, development of 11 M&E systems/plans, seven strategic plans and seven feasibility studies of public infrastructure projects (roads, industrial parks, drainage systems and water shade catchment plans) and two technical feasibility assessment of social development interventions.
To-date, KENWILL has rendered services to 37 institutions. These include 19 International NGOs, 12 local NGOs, two bilateral agencies, one private sector agency and three Government Ministries. KENWILL's main clients include World Vision (DR Congo, South Sudan & Uganda), Veterinary Doctors without Borders –Suisse (VSF-Suisse), Amref Health Africa (Uganda Office), Dan Church Aid (South Sudan), ChildFund International, Plan Uganda, HelpAge International, Norwegian Refugee Council (South Sudan), Welt Hunger Hilfe (WHH), Amref Health Africa Uganda Office, International Institute of Rural reconstruction (IIRR), Belgium Technical Cooperation (now Enabel), Ministry of Finance, Planning and Economic Development, and Ministry of Trade, Industry and Cooperatives, SightSavers Uganda, Save the Children
KENWILL'S CONSULTANCY EXPERIENCE
| | | |
| --- | --- | --- |
| No. | Type of Job | Percentage |
| 1 | Programme  Evaluations | 45.1% |
| 3 | Baseline Surveys & Assessments | 32.8% |
| 4 | Feasibility Studies | 7% |
| 7 | M&E Systems | 3.5% |
| 8 | Business Training | 0.7% |
| 9 | Organisational Assessment | 1.4% |
| 10 | Strategic Development | 4.9% |
| 11 | Others | 4.9% |
KENWILL's Core Competences and Experience
| | | | |
| --- | --- | --- | --- |
| No | Sector | No. of jobs | Percentage |
| 1 | Health | 29 | 20.4% |
| 2 | Education | 27 | 19% |
| 3 | Livelihood Security | 69 | 48.6% |
| 4 | Governance & Child protection | 27 | 19% |
| 5 | WASH | 18 | 12.7% |
| 6 | Gender | 5 | 3.5% |
| 7 | Fund Management | 7 | 4.9% |
| 8 | Capacity Building | 3 | 2.1% |
| 9 | Conflict resolution & Peace building | 3 | 2.1% |
| 10 | Environment | 9 | 6.3% |
| 11 | Organisational Development | 7 | 4.9% |
| 12 | HIV& Aids | 5 | 3.5% |
| 13 | OVC | 5 | 3.5% |
| 14 | Others | 26 | 18.2% |
KENWILL's Consultancy Experience by Sector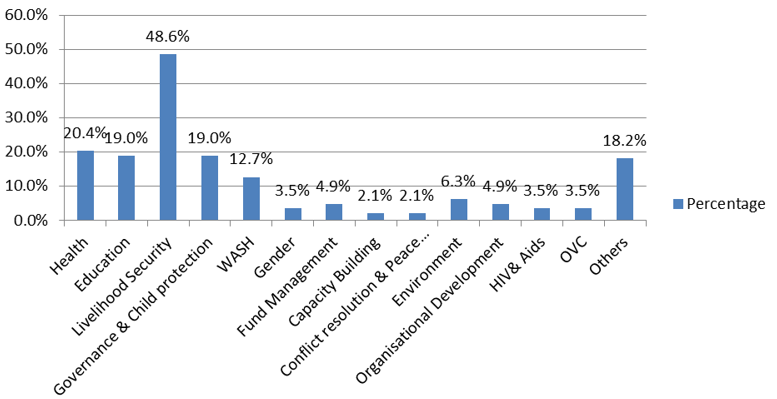 | | |
| --- | --- |
| Type of Organization | No. of  Organisation |
| Bilateral Agencies | 3 |
| Government MDAS | 2 |
| International NGOs | 21 |
| National NGOs | 11 |